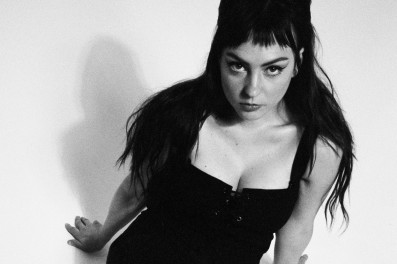 Angel Olsen
Angel Olsen (born January 22, 1987) is an American singer-songwriter and musician from St. Louis, Missouri who lives in Asheville, North Carolina.
Early life and education
Angel Olsen was born on January 22, 1987 in St. Louis, Missouri. At age three, Olsen was adopted by a foster family that had cared for her since shortly after her birth. The difference in years between her and her parents left an impression. "Because there are so many decades of difference between us, I became more interested in what their childhood was like," she says of her parents, both of whom still live in St. Louis. "I fantasized about what it was like to be young in the '30s and '50s, more so than other kids my age." Olsen explained that "my mother just has this capacity for children."
Despite early adolescent aspirations to be a "pop star", her interests later shifted in high school. Olsen became more introverted, regularly attending punk rock and noise music shows at the Lemp Neighborhood Arts Center and the Creepy Crawl as well as Christian rock shows throughout the city. She began learning the piano and guitar and writing her own music. At the age of 16, she joined a local band called Good Fight, self-described as "a meeting of early No Doubt and punk rock." Two years after graduating from Tower Grove Christian High School, Olsen moved to Chicago.
Career
After releasing her first EP, Strange Cacti, and a debut studio album, Half Way Home, on Bathetic Records, Olsen signed with Jagjaguwar, ahead of her first full-band record, Burn Your Fire for No Witness, which was released on February 17, 2014. The closing track of the album, "Windows", was featured in the final episode of the Netflix original series 13 Reasons Why in 2017.
Olsen's third studio album, My Woman, was released on September 2, 2016. In a review for Consequence of Sound, critic Ciara Dolan described the album as a "startling record of unimpeachable strength and honesty", while Pitchfork's Jenn Pelly described it as "her best record yet".
In addition to her work with Bonnie "Prince" Billy and the Cairo Gang, Olsen has collaborated with a number of other notable figures of American indie rock, including Tim Kinsella of Cap'n Jazz, LeRoy Bach of Wilco and Cass McCombs. Her collaboration with Kinsella and Bach, as well as with Chicago poet Marvin Tate, resulted in the album Tim Kinsella Sings the Songs of Marvin Tate by Leroy Bach Featuring Angel Olsen which the group released on Indianapolis label Joyful Noise Recordings on December 3, 2013.
Olsen's fourth studio album, All Mirrors, was released on October 4, 2019 to critical acclaim. Laura Snapes of Pitchfork described the album as "breathtaking", and a "strong wind" that blows in and "leaves you undone", while Alexis Petridis of The Guardian described it as "challenging and intriguing", and Luke Saunders of Happy Mag described it as a change of "theatric transcendency", when compared to her previous releases.
Olsen plays a vintage Gibson S-1 guitar from 1979.
On August 28, 2020, Olsen released her fifth studio album Whole New Mess through Seasick Records.
Source Wikipedia