R&B and Soul
Updated Jan 2019
"We took our time to write this record, and I'm really glad we did," says Brittany Howard, lead singer and guitarist of Alabama Shakes, about the band's new album Sound & Color. "We were able to sit…
"We took our time to write this record, and I'm really glad we did," says Brittany Howard, lead singer and guitarist of Alabama Shakes, about the band's new album Sound & Color. "We were able to sit down and think about what's exciting to us, explore all the things we wanted to on our first album. This record is full of genre-bending songs—it's even harder now when people ask, 'What kind of band are you?' I have no clue."
Sound & Color is the eagerly anticipated follow-up to the Shakes' 2012 debut Boys & Girls, which earned the group three Grammy nominations, including a nod for Best New Artist. The gold-certified album's breakthrough paved the way for the Shakes—Howard, guitarist Heath Fogg, bassist Zac Cockrell, drummer Steve Johnson, and touring keyboard players Ben Tanner and Paul Horton—to become one of the most celebrated live acts in the world, as they delivered unforgettable performances everywhere from Saturday Night Live to the main stages of such festivals as Bonnaroo and Glastonbury.
"There was definitely a slight wave of pressure after that success," says Fogg, "but everyone was really on the same page about letting that pass and making the record that we wanted to make, trying to be creative and free and not limit ourselves."
The album's twelve songs reveal a band honed by years on the road, and drawing from a wide range of influences. The bluesy groove of "Shoegaze" or the garage-rock freak-out on "The Greatest" give way to the psychedelic space jam "Gemini." The gently swaying, chiming title song opens the album with what Howard calls "more of a visual thing, I think of this whole scene going on," then explodes into the urgent, tightly-coiled funk of "Don't Wanna Fight." Long instrumental intros and passages create hazy atmosphere, and then the intensity of Howard's vocals snaps everything back into riveting focus.
She explains that there were a few specific recordings that were touchstones for Sound & Color. "The Superfly soundtrack, Gil Scott-Heron's music and how minimal it could be, David Axelrod—not so much wanting to sound like them, but all of their attention to small details. With 'Gemini,' I thought about how the Temptations used to write pop songs, but then got really far out on 'Cloud Nine' or 'Psychedelic Shack.' I imagined myself in the situation of the African-American groups in the '70s, when synthesizers had just come out and they were making all of this moody stuff."
Source AlabamaShakes.com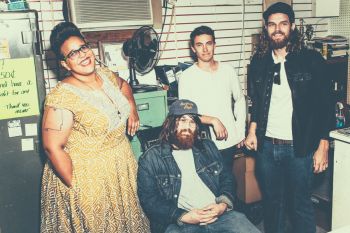 Are you enjoying "Future People" by Alabama Shakes?
Listen to additional Alabama Shakes song picks on Darren's Song Of The Day.
Listen here
---