Select Songs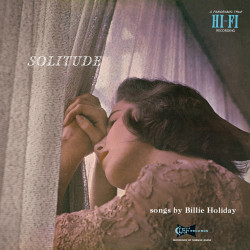 'Autumn in New York'
Music Spotify YouTube
Posted 11.22.2019
Jazz
Updated Nov 2019
Eleanora Fagan (April 7, 1915 – July 17, 1959), better known as Billie Holiday, was an African American jazz singer with a career spanning nearly thirty years. Nicknamed "Lady Day" by her friend and…
Eleanora Fagan (April 7, 1915 – July 17, 1959), better known as Billie Holiday, was an African American jazz singer with a career spanning nearly thirty years. Nicknamed "Lady Day" by her friend and music partner Lester Young, Holiday had a seminal influence on jazz music and pop singing. Her vocal style, strongly inspired by jazz instrumentalists, pioneered a new way of manipulating phrasing and tempo. She was known for her vocal delivery and improvisational skills.
After a turbulent childhood, Holiday began singing in nightclubs in Harlem, where she was heard by the producer John Hammond, who commended her voice. She signed a recording contract with Brunswick in 1935. Collaborations with Teddy Wilson yielded the hit "What a Little Moonlight Can Do", which became a jazz standard. Throughout the 1930s and 1940s, Holiday had mainstream success on labels such as Columbia and Decca. By the late 1940s, however, she was beset with legal troubles and drug abuse. After a short prison sentence, she performed at a sold-out concert at Carnegie Hall, but her reputation deteriorated because of her drug and alcohol problems.
She was a successful concert performer throughout the 1950s with two further sold-out shows at Carnegie Hall. Due to personal struggles and an altered voice, her final recordings were met with mixed reaction, but were mild commercial successes. Her final album, Lady in Satin, was released in 1958. Holiday died of cirrhosis on July 17, 1959.
She won four Grammy Awards, all of them posthumously, for Best Historical Album. She was inducted into the Grammy Hall of Fame in 1973. Lady Sings the Blues, a film about her life, starring Diana Ross, was released in 1972. She is the primary character in the play (later made into a film) Lady Day at Emerson's Bar and Grill; the role was originated by Reenie Upchurch in 1986, and was played by Audra McDonald on Broadway and in the film. In 2017 Holiday was inducted into the National Rhythm & Blues Hall of Fame.
Source Wikipedia