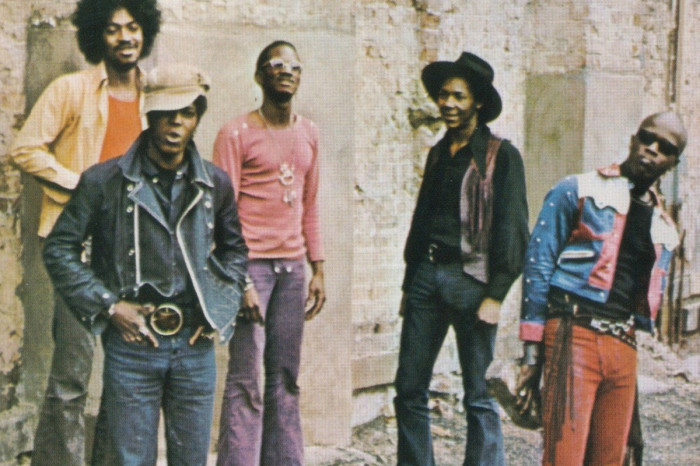 R&B and Soul
Updated Jan 2020
Funkadelic is an American band that was most prominent during the 1970s. The band and its sister act Parliament, both led by George Clinton, pioneered the funk…
Funkadelic is an American band that was most prominent during the 1970s. The band and its sister act Parliament, both led by George Clinton, pioneered the funk music culture of that decade. Relative to its sister act, Funkadelic pursued a heavier, psychedelic rock-oriented sound.
The group that would become Funkadelic was formed by George Clinton in 1964, as the unnamed backing section for his doo wop group The Parliaments while on tour. The band originally consisted of musicians Frankie Boyce, Richard Boyce, and Langston Booth plus the five members of the Parliaments on vocals. Boyce, Boyce, and Booth enlisted in the Army in 1966, and Clinton recruited bassist Billy Bass Nelson and guitarist Eddie Hazel in 1967, then added guitarist Tawl Ross and drummer Tiki Fulwood. The name "Funkadelic" was coined by Nelson after the band relocated to Detroit. By 1968, because of a dispute with Revilot, the record company that owned "The Parliaments" name, the ensemble began playing under the name Funkadelic.
Psychedelic era
As Funkadelic, the group signed to Westbound in 1968. Around this time, the group's music evolved from soul and doo wop into a harder guitar-driven mix of psychedelic rock, soul and funk, much influenced by the popular musical (and political) movements of the time. Jimi Hendrix and Sly Stone were major inspirations. This style later evolved into a tighter guitar and horns-based funk (circa 1971-75), which subsequently, during the height of Parliament-Funkadelic success (circa 1976-81), added elements of R&B and electronic music, with fewer psychedelic rock elements. The band made their first live television performance on Say Brother in October 7, 1969. They played a jam with songs "Into My Own Thing", "What Is Soul?", "(I Wanna) Testify", "I Was Made to Love Her" (Stevie Wonder cover), "Friday Night, August 14th" and "Music for My Mother".
The group's self-titled debut album, Funkadelic, was released in 1970. The credits listed organist Mickey Atkins plus Clinton, Fulwood, Hazel, Nelson, and Ross. The recording also included the rest of the Parliaments singers (still uncredited due to contractual concerns), several uncredited session musicians then employed by Motown, as well as Ray Monette (of Rare Earth) and future P-Funk mainstay Bernie Worrell.
Bernie Worrell was officially credited starting with Funkadelic's second album, 1970s Free Your Mind... and Your Ass Will Follow, thus beginning a long working relationship between Worrell and Clinton. The album Maggot Brain followed in 1971. The first three Funkadelic albums displayed strong psychedelic influences (not least in terms of production) and limited commercial potential, despite containing many songs that stayed in the band's set list for several years and would influence many future funk, rock, and hip hop artists.
After the release of Maggot Brain, the Funkadelic lineup was expanded greatly. Tawl Ross was unavailable after experiencing either a bad LSD trip or a speed overdose, while Billy Bass Nelson and Eddie Hazel quit due to financial concerns. From this point, many more musicians and singers would be added during Funkadelic's (and Parliament's) history, including the recruitment of several members of James Brown's backing band, The JB's in 1972 – most notably Bootsy Collins and the Horny Horns. Bootsy and his brother Catfish Collins were recruited by Clinton to replace the departed Nelson and Hazel. Bootsy in particular became a major contributor to the P-Funk sound. In 1972, this new line-up released the politically charged double album America Eats Its Young. The lineup stabilized a bit with the album Cosmic Slop in 1973, featuring major contributions from recently added singer-guitarist Garry Shider. After first leaving the band, Eddie Hazel spent a year in jail after assaulting an airline stewardess and air marshal while under the influence of PCP, then he returned to make major contributions to the 1974 album Standing on the Verge of Getting It On. Hazel only contributed to P-Funk sporadically thereafter.
Source Wikipedia