Image from Israel Nash KRIS WIXOM
Select Songs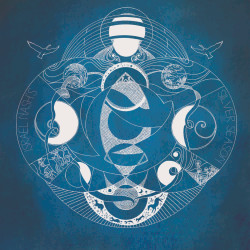 'LA Lately'
Music Spotify YouTube
Posted 09.07.2021
'Rain Plans'
Music Spotify YouTube
Posted 04.17.2020
Rock
Updated Apr 2020
Texas' genre-bending rock 'n' roller Israel Nash presents his latest long play, Lifted. It is a modern day hippie-spiritual, a tonic for those needing to put aside the mess of the daily grind. With…
Texas' genre-bending rock 'n' roller Israel Nash presents his latest long play, Lifted. It is a modern day hippie-spiritual, a tonic for those needing to put aside the mess of the daily grind. With luscious beds of strings, horns and well adorned towering walls of sound, Lifted finds Nash continuing his tradition of creating a sonic experience of feeling that is at once both vast and intimate - soaring and untamed at times, placid and sincerely personal at others.
Originally from the Ozarks of Missouri, Israel Nash has made his home in Dripping Springs, Texas for the greater part of a decade. There, on his ranch with sweeping views of the Texas Hill Country, the tall, hirsute mountain man
built his own studio; a Quonset hut structure he's dubbed Plum Creek Sound. The studio became a sanctuary, a creative outlet where Nash reached a meditative state of escapism, which ultimately became the inspiration behind Lifted. The creative process of writing, recording and producing Lifted allowed Nash to leave his own downhearted feelings about the political landscape of the recent elections and the deeper queries of purpose and life that supersede the material world. Nash wrote and recorded Lifted with the intention of achieving a sonic experience that will elevate the listener - that the feeling of peace, love and happiness which saturates the words and music can provide the same escape he achieved while creating the LP.
Being able to finally use Plum Creek Sound to its utmost, Nash incorporated found sounds and field recordings from his Texas ranch to create a setting of the sounds that represent his Hill Country life. Drums played in rain collection tanks, water rushing against the limestone, frogs and crickets in their habitats, and even a curious, yet guarded rattlesnake, all appear throughout the record. Inspired by methods pioneered by John Cage, Nash also randomized sounds and music and rearranged them according to the I Ching (The Book of Changes). Utilizing these recording and tracking techniques help create a sonic and very present picture of Nash's home and his life. Accompanied by his longtime band, with arrangements by Jesse Chandler (Mercury Rev, Midlake), horns by members of Austin's cumbia/funk compadre's Grupo Fantasma, and strings from Kelsey Wilson and Sadie Wolf of indie pop's Wild Child, Nash, alongside co- producer and engineer Ted Young (Kurt Vile, The Rolling Stones), presents an album that soars as a masterwork of American roots songs, meticulously crafted and gently sprinkled with life meaning and multi-hued rock and psychedelia.
"It's all about finding, searching for little sparks of inspiration. It may be a sound, a groove, a color, or even an object. Old things are inspiring. Whatever it is, when you find it, it spreads like a conflagration that is out of your control. It doesn't matter if you're making a record or living your life, find these inspirations with a vigil eye and watch them change both you and your world."
Lifted opens with an extended instrumental introduction, preparing the listener to get comfortable and settle in for the journey ahead, before blossoming into "Rolling On." It's a manifesto, a hearty breath of rock goodness, clean air for all that follows. A sing-along anthem of urgency, encouraging one to let go of yesterday and spring from the traps of worry in order to move onward and upward - rolling on, right here and right now.
"It was a simple message to myself, to not get stuck in thinking and the past. It's too easy for us to worry about pretty much everything. I had been down and low for a bit and really had to sing and write those feelings away, give them to the moment and find a better self in the end."
What follows is an Americana-bred opus without equal. From the familial harmonies of "Sweet Springs," recalling the Beach Boys at their most joyous (almost all performed by Nash himself), to the country rock riffage of "Lucky Ones" and "SpiritFalls" conjuring up that much needed healing, to the album ending "Golden Fleeces," a sunshine laden song offering up sweet relief from those troubles and tying the preceding up with a sense of lightness and much needed joy.
By immersing oneself in Lifted, one can see Nash succeeds in a way that's exquisite yet spiritually satisfying. Nash welcomes you to join him on his uplifting path - one he's taken throughout his career, now continuing on a higher, imaginative plane. May your ears be blessed and may your soul be lifted.
Source IsraelNash.com
Band Website