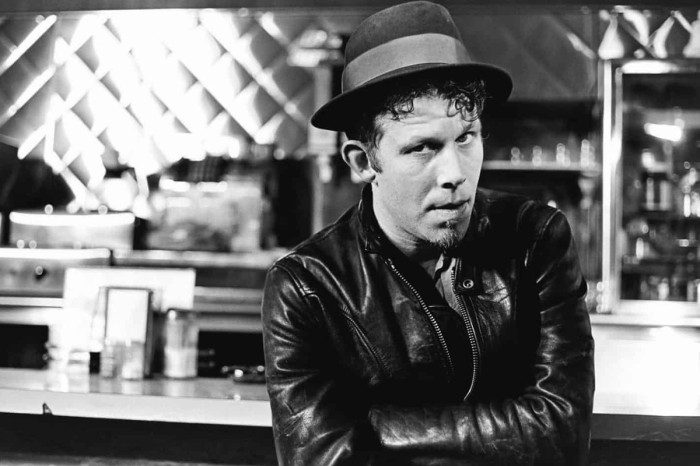 Select Songs
'Jockey Full Of Bourbon'
Music Spotify YouTube
Posted 06.29.2019
Rock
Updated Jun 2019
Thomas Alan Waits (born December 7, 1949) is an American singer, songwriter, musician, composer, and actor. His music is characterized by his distinctive deep, gravelly voice and lyrics focusing on…
Thomas Alan Waits (born December 7, 1949) is an American singer, songwriter, musician, composer, and actor. His music is characterized by his distinctive deep, gravelly voice and lyrics focusing on the underside of society. During the 1970s, he worked primarily in jazz, but since the 1980s his music has reflected greater influence from blues, vaudeville, and experimental genres.
Waits was born and raised in a middle-class family in California. He was inspired by the work of Bob Dylan and the Beat Generation as a teenager, so he began singing on the San Diego folk music circuit, relocating to Los Angeles in 1972. He worked there as a songwriter before signing a recording contract with Asylum Records. His first albums were the jazz-oriented Closing Time (1973) and The Heart of Saturday Night (1974), which reflected his lyrical interest in nightlife, poverty, and criminality. He has repeatedly toured the U.S., Europe, and Japan and has attracted greater critical recognition and commercial success with Small Change (1976), which he followed with Blue Valentine (1978) and Heartattack and Vine (1980). He produced the soundtrack for Francis Ford Coppola's 1981 film One from the Heart and subsequently made cameo appearances in several Coppola films.
In 1980, Waits married Kathleen Brennan, broke from his manager and record label, and moved to New York City. Under his wife's encouragement, he pursued a new, more experimental and eclectic musical aesthetic influenced by the work of Harry Partch and Captain Beefheart. This was reflected in a series of albums released by Island Records, including Swordfishtrombones (1983), Rain Dogs (1985), and Franks Wild Years (1987). He continued appearing in film, taking a leading role in Jim Jarmusch's Down by Law (1986). In the 1990s, his albums Bone Machine (1992), The Black Rider (1993), and Mule Variations (1999) earned him increasing critical acclaim and various Grammy Awards. In the late 1990s, he switched to the record label Anti-, which released Blood Money (2002), Alice (2002), Real Gone (2004), and Bad as Me (2011).
Waits' albums have met with mixed commercial success in the U.S., while they have occasionally achieved gold status in other countries. He has a cult following and has influenced many singer-songwriters, despite having little radio or music video support. In 2011, he was inducted into the Rock and Roll Hall of Fame. He was included among the 2010 list of Rolling Stone's 100 Greatest Singers, as well as the 2015 Rolling Stone's 100 Greatest Songwriters of All Time.