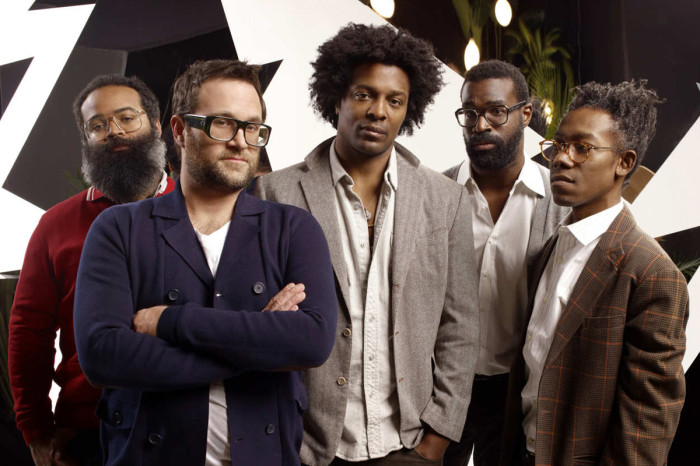 Rock
Updated Jan 2022
TV on the Radio is an American indie rock band from Brooklyn, New York, formed in 2001. The bands core members include Tunde Adebimpe (vocals, loops), David Andrew Sitek (guitars, keyboards, loops),…
TV on the Radio is an American indie rock band from Brooklyn, New York, formed in 2001. The bands core members include Tunde Adebimpe (vocals, loops), David Andrew Sitek (guitars, keyboards, loops), Kyp Malone (vocals, guitars, bass, loops) Jaleel Bunton (drums, vocals, loops, guitars) and Gerard Smith (bass, keyboards, loops) until his death in 2011. Other contributors have included David Bowie, Nick Zinner of Yeah Yeah Yeahs, Trent Reznor of Nine Inch Nails, Kazu Makino of Blonde Redhead, Martin Perna of Antibalas, Colin Stetson, and Katrina Ford of Celebration. The group has released several EPs including their debut Young Liars (2003), and five studio albums: Desperate Youth, Blood Thirsty Babes (2004), Return to Cookie Mountain (2006), Dear Science (2008), Nine Types of Light (2011), and Seeds (2014).
The first release from TV on the Radio (initially just founding members Adebimpe and Sitek) was the self-released OK Calculator (the title being a reference to Radiohead's album OK Computer). They were later joined by Kyp Malone, and released the Young Liars EP in 2003. This was followed by the full-length Desperate Youth, Blood Thirsty Babes which earned the band the 2004 Shortlist Music Prize. They released a second EP, New Health Rock, later that year.
Their second album, Return to Cookie Mountain, leaked in early 2006 and garnered pre-release praise from Pitchfork Media before its official release in July overseas. U.S. and Canadian release was in September on Interscope. Spin magazine named Return to Cookie Mountain its Album of the Year for 2006. The album features guest appearances from David Bowie, Omega Moon, Celebration, Dragons of Zynth, Martin Perna and Stuart D. Bogie of Antibalas, Blonde Redhead, Yeah Yeah Yeahs' Nick Zinner. Bowie contributed back-up vocals on the song "Province". In promotion of the album, the band performed " Wolf Like Me" on the Late Show with David Letterman, which has garnered over 2 million views on YouTube. During the U.S. tour, the band performed a few covers with Bauhaus singer Peter Murphy and Nine Inch Nails frontman Trent Reznor.
The band's third album, Dear Science, was released September 23, 2008 on Interscope. It was made available for streaming on their Myspace page and subsequently leaked onto the internet on September 6, 2008. The album was named the best album of 2008 by Rolling Stone, The Guardian, Spin magazine, The A.V. Club, MTV, Entertainment Weekly, the Pitchfork Media's readers poll as well as the Pazz and Jop critic's poll. It was also named the second best album of 2008 by NME and the fourth best album of 2008 by Planet Sound.
Source Wikipedia
Band Website