Jazz
Updated Apr 2020
Joseph Lee Henry (born December 2, 1960) is an American singer-songwriter, guitarist, and producer. He has released 13 studio albums and produced multiple recordings for other artists, including three…
Joseph Lee Henry (born December 2, 1960) is an American singer-songwriter, guitarist, and producer. He has released 13 studio albums and produced multiple recordings for other artists, including three Grammy Award-winning albums.
Henry moved to Brooklyn, New York in 1985 and began performing in local music venues. He released his first album "Talk of Heaven" in 1986. The album earned him a recording contract with A&M, which subsequently released the albums Murder of Crows in 1989 and Shuffletown in 1990. Shuffletown, produced by T-Bone Burnett, represented a shift in musical direction towards the "alt country" genre. Henry's next two recordings, Short Man's Room (1992) and Kindness of the World (1993), featured members of the country-rock band the Jayhawks. The song "King's Highway" was recorded by Joan Baez in 2003 and Gov't Mule in 2005. For his 1996 album Trampoline, Henry incorporated guitarist Page Hamilton of Helmet and a reviewer at Trouserpress called the album "idiosyncratic broadmindedness."
1999's Fuse was recorded with producers Daniel Lanois and T-Bone Burnett. The album was called an "atmospheric marvel" by one reviewer and Ann Powers of the New York Times wrote: Henry has "found the sound that completes his verbal approach."
Scar, released in 2001, featured jazz musicians Marc Ribot, Brian Blade, Brad Mehldau and saxophonist Ornette Coleman on "Richard Pryor Addresses A Tearful Nation." According to Allmusic's Thom Jurek, the album is a "triumph not only for Henry—who has set a new watermark for himself—but for American popular music, which so desperately needed something else to make it sing again."
2003's self-produced Tiny Voices album was Henry's first recording on Epitaph's Anti label. Jurek described this album as "the sound of....electric guitars in an abandoned yet fully furnished Tiki bar in Raymond Chandler's Los Angeles."
Source Wikipedia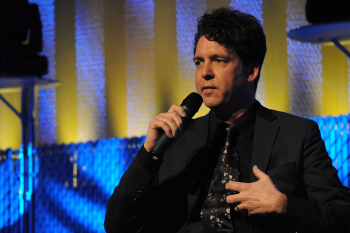 Are you enjoying "Loves You Madly" by Joe Henry?
Listen to additional Joe Henry song picks on Darren's Song Of The Day.
Listen here
---
Band Website