Latin
Updated Dec 2020
Sonido Gallo Negro (Black Rooster Sound) is a stunning 9-piece, instrumental combo from east Mexico City that channels both the mystique and mysticism of 1960's Peruvian cumbia. The band integrates…
Sonido Gallo Negro (Black Rooster Sound) is a stunning 9-piece, instrumental combo from east Mexico City that channels both the mystique and mysticism of 1960's Peruvian cumbia. The band integrates styles like Amazonian cumbia, huayno, cumbia sonidera, boogaloo and chicha (Peruvian cumbia) with electric guitars, Farfisa organ, theremin, flute and of course fluid Latin percussion. Spaghetti western soundtracks, psychedelia and surf music also echo in their compositions.
Sonido Gallo Negro's music proposal enrichens and cultivates this musical genre with its exotic sui generis version that integrates outstanding visuals performed live by designer Dr. Alderete, who illustrates in real time.
Source boaviagemmusic.com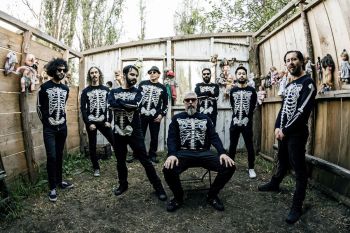 Are you enjoying "Chaneque" by Sonido Gallo Negro?
Listen to additional Sonido Gallo Negro song picks on Darren's Song Of The Day.
Listen here
---
Band Website

- Follow Sonido Gallo Negro on
- Follow Sonido Gallo Negro on