'So Tonight That I Might See' (1993)
Rock
Updated Jan 2022
Mazzy Star is an American alternative rock band formed in Santa Monica, California, in 1989 from remnants of the group Opal. Founding member David Roback's friend Hope…
Mazzy Star is an American alternative rock band formed in Santa Monica, California, in 1989 from remnants of the group Opal. Founding member David Roback's friend Hope Sandoval became the group's vocalist when Kendra Smith left Opal.
Mazzy Star is best known for the song "Fade into You" which brought the band some success in the mid-1990s and was the group's biggest mainstream hit, earning extensive exposure on MTV, VH1, and radio airplay. Roback and Sandoval are the creative center of the band, with Sandoval as lyricist and Roback as composer of the majority of the band's material.
The band's most recent studio album, Seasons of Your Day, was released in 2013, followed by the EP Still in 2018.
History
Opal and Paisley Underground (1981–1987)
Mazzy Star has deep roots within the Californian Paisley Underground movement of the early 1980s. David Roback, along with his brother Steven, was one of the main architects of leading Los Angeles psychedelic revival band the Rain Parade. Leaving that band after their first LP, he founded Clay Allison in 1983 with then-girlfriend, ex-Dream Syndicate bassist Kendra Smith. Soon after the publication of their sole release, the 1983 double A-sided single "Fell From the Sun"/"All Souls", Clay Allison renamed themselves Opal and released the LP Happy Nightmare Baby on SST on December 14, 1987. With Roback as its musical catalyst, Opal were a direct precursor to Mazzy Star musically—often featuring the same psychedelic guitar drones and similar hints of blues and folk that would later appear on Mazzy Star recordings. Meanwhile, Sandoval—who was in high school at the time—formed the folk music duo Going Home in the early 1980s with fellow student Sylvia Gomez, and played gigs with Sonic Youth and Minutemen. Both were devoted followers of the Rain Parade, and after a 1983 concert by the band in the Los Angeles area, Gomez entered the backstage area of the venue and gave Roback a copy of Going Home's demo tape, featuring Sandoval on vocals and Gomez on guitar. Upon hearing the tape, Roback offered to produce a still-unreleased album by the pair.
When Smith left Opal under cloudy circumstances in the middle of a tour supporting the Jesus & Mary Chain, Sandoval was tapped as her replacement.
Formation and Rough Trade (1988–1990)
Despite Smith's departure, Rough Trade retained Roback's original record deal, contractually obligating him to supply a follow-up to Opal's debut LP. As a result, Roback and Sandoval continued to tour under the Opal alias for the next two years, during which time they completed production on Opal's planned second album, titled Ghost Highway. Composed mainly of songs written by Roback and Smith, Sandoval stated that she was unhappy with the material, and expressed an interest in wanting to "start something completely new". The pair quickly composed and recorded seven new tracks in Hyde Street Studios in San Francisco, and renamed the band Mazzy Star. Written over a year before Mazzy Star's inception, the track "Ghost Highway" is the duo's only original song to not feature a writing credit from Sandoval, while another song, "Give You My Lovin'", was written by Going Home guitarist Sylvia Gomez and first recorded by Sandoval and Gomez in the mid-1980s.
She Hangs Brightly was released in April 1990 on Rough Trade and, although it was not an immediate commercial success, the album established the duo as a recurrent fixture on alternative rock radio, with lead single "Blue Flower" – a cover of the Slapp Happy track – peaking at No. 29 on Billboard's Modern Rock Tracks chart. The album would go on to sell over 70,000 copies in the UK.
Capitol (1990–1997)
The American branch of Rough Trade folded in late 1990, briefly leaving Mazzy Star without a record label. Within weeks, the duo's contract was picked up by Capitol, who re-released She Hangs Brightly on November 4, 1990, and released their follow-up, So Tonight That I Might See on September 27, 1993. A year after its release, the album yielded an unexpected hit single. "Fade into You" peaked at No. 44 to become their first Billboard Hot 100 single, while also reaching a career-high peak of No. 3 on the Modern Rock Tracks chart. On April 19, 1995, the album was certified platinum by the RIAA for shipments in excess of 1 million units. The album also peaked at No. 68 in the UK, and was certified silver by the BPI on July 22, 2013 for sales of over 60,000 copies. Following the success of "Fade into You", She Hangs Brightly album opener "Halah" began to receive heavy airplay in the US a
nd peaked at No. 19 on Billboard's Modern Rock Tracks chart, a chart based solely on airplay. In 1995, She Hangs Brightly was awarded a gold certification from the RIAA for shipments in excess of 500,000 units.
Their final album for Capitol, Among My Swan, was released on October 29, 1996. Entering the Billboard 200 at No. 68 and, as of September 2001, selling 214,000 copies in the United States, the album was less commercially successful than its predecessors, although it produced their highest-peaking single in the United Kingdom, when "Flowers in December" entered at No. 40 to become their only top forty entry on the chart. The band promoted the album with a five-month tour of the US and Europe, after which Sandoval and Roback began work on new material. Over the course of these sessions, Sandoval reportedly "begged" Capitol to be released from her contract, later elaborating, "It seemed record companies wanted bands to be creative because they didn't know how to manufacture underground music. We could do our own thing and go at our own pace. But that changed when major labels started wanting bands that would sell 7 million records. They had a formula. And suddenly all these people wanted to come to the studio to keep track of what we were doing and make sure we were following that formula. So we got out."
Source Wikipedia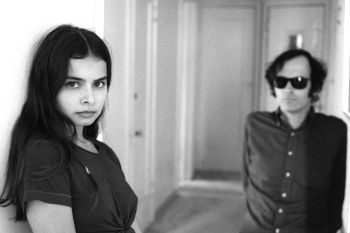 Are you enjoying "So Tonight That I Might See" by Mazzy Star?
Listen to additional Mazzy Star song picks on Darren's Song Of The Day.
Listen here
---
Band Website