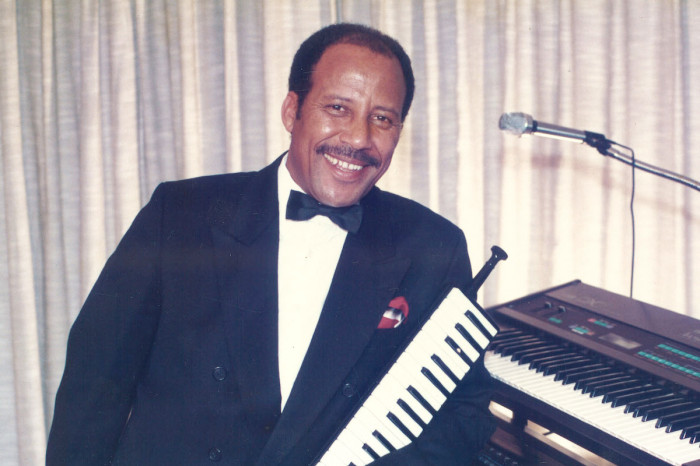 Select Songs
'Anchin Kfu Ayinkash'
Music Spotify YouTube
Posted 02.23.2019
African
Updated Feb 2019
Hailu Mergia & His Classical Instrument (Amharic:ኃይሉ መርጊያና የመሣረያ ቅንብሮቹ), also known as Shemonmuanaye, is a 1985 studio album by Ethiopian jazz musician Hailu Mergia, formerly of the Walias Band. After…
Hailu Mergia & His Classical Instrument (Amharic:ኃይሉ መርጊያና የመሣረያ ቅንብሮቹ), also known as Shemonmuanaye, is a 1985 studio album by Ethiopian jazz musician Hailu Mergia, formerly of the Walias Band. After the band split up in 1983, Mergia moved to the United States and began studying music at Howard University, during which time he discovered an accordion and began playing it. Initially intending to record a cassette of himself playing the accordion in a small studio belonging to an acquaintance at Howard, he also incorporated other instruments in the studio, such as a Rhodes piano and synthesiser.
Using all three instruments and a drum machine, he recorded His Classical Instrument to showcase his mastery of the accordion, an instrument which reminded him of his youth – and which had lost popularity in Ethiopia since the 1950s – with the hopes of bringing it back to prominence. Via the inclusion of modern instruments, the album was also intended to mix the old accordion style with the modern technology of the United States. Originally released in Ethiopia on cassette by Kaifa Records, the album was a surprise hit when listeners warmed to its unusual sound, though, as was often the case with Mergia's music, the album was unheard outside of the country, and he soon slipped into obscurity.
When Brian Shimkovitz, founder of American reissue label Awesome Tapes From Africa, discovered a copy of the album in Ethiopia in 2013, he hoped to re-release it on his label, and contacted Mergia, who greenlit the project. Upon its re-release in various formats by the label that same year, the album received critical acclaim, with Western critics complimenting its uniquely psychedelic and dreamy sound. The success of the album relaunched Mergia's international touring career, which had ceased several decades earlier, and brought him international recognition. The label would later re-release further cassettes of Mergia's music.
Source Wikipedia