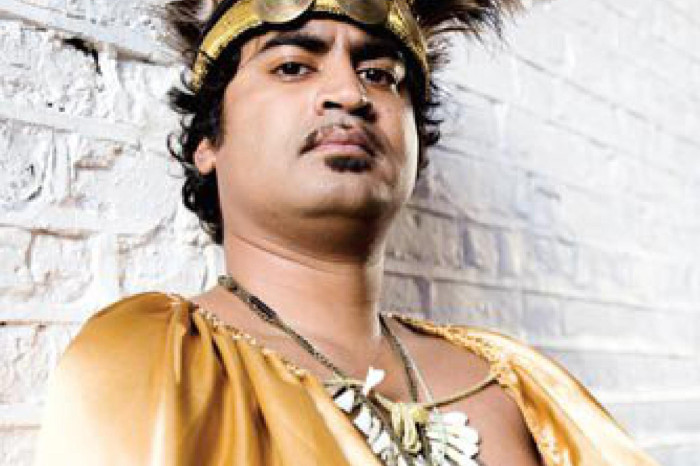 Image from wegow.com
Select Songs
'Discreate Disguise'
Music Spotify YouTube
Posted 04.07.2021
Rock
Updated Apr 2021
Arish Ahmad Khan (born January 24, 1977), better known by his stage name King Khan, is a Canadian musician/producer/artist/writer. He is best known as the frontman of King Khan and the Shrines and for…
Arish Ahmad Khan (born January 24, 1977), better known by his stage name King Khan, is a Canadian musician/producer/artist/writer. He is best known as the frontman of King Khan and the Shrines and for being one half of The King Khan & BBQ Show.
Career
Khan was born in Montreal to an Indo-Canadian family. Since 2005, he resides in Berlin, Germany with his wife and two daughters.
King Khan was a member of a number of Canadian garage bands including the Spaceshits, a frantic garage punk outfit formed in mid-1995. As his circle of fellow troublemaker musicians grew, in 1999, he helped create a "death cult" of such musicians, originally known as the "Kukamongas" with identifying tattoos and a love for real rock n' roll. He used the Blacksnake moniker while in the Spaceshits whose two full-length albums were released on Sympathy for the Record Industry. He has spent a considerable amount of time in collaboration with former Spaceshits bandmate Mark Sultan in the two-man band, The King Khan & BBQ Show. Since 1999, King Khan has performed as leader and front man of King Khan and the Shrines, a psychedelic soul nine member band. They signed to Vice Records in 2008 and Merge Records in 2013. In early 2009, King Khan collaborated with Mark Sultan and the four members of the Black Lips to form a gospel supergroup called Almighty Defenders. Their debut album was released on Vice Records on September 22, 2009.
Source Wikipedia
Band Website