Select Songs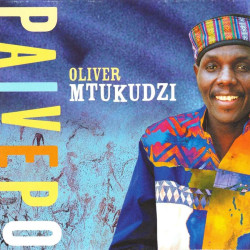 'Chiri Nani'
Music Spotify YouTube
Posted 04.16.2019
African
Updated Apr 2019
Oliver "Tuku" Mtukudzi (22 September 1952 – 23 January 2019) was a Zimbabwean musician, businessman, philanthropist, human rights activist and UNICEF Goodwill Ambassador for Southern Africa Region.…
Oliver "Tuku" Mtukudzi (22 September 1952 – 23 January 2019) was a Zimbabwean musician, businessman, philanthropist, human rights activist and UNICEF Goodwill Ambassador for Southern Africa Region. Tuku was considered to have been Zimbabwe's most renowned and internationally recognised cultural icon of all time.
Mtukudzi grew up in Highfield, a poor neighborhood in Salisbury (modern-day Harare) in Southern Rhodesia, as the eldest of seven siblings. While both his parents sang in a choir, they were initially not supportive of his continued interest in music, consequently breaking his first homemade guitar.
He began performing in 1977 when he joined the Wagon Wheels, a band that also featured Thomas Mapfumo and fellow legendary guitarist James Chimombe. They were given the rare opportunity by Paul Tangi Mhova Mkondo, an African nationalist and music promoter, who provided money and resources to the group. With the support of Mutanga, the prayers and blessings of Amai Mutanga, he allowed them to perform at Mutanga Restaurant & Night Club (Pungwe) which, at the time, was the first and only African licensed (obtained by Mkondo) night club available for blacks under Rhodesia's policy of segregation. Their single Dzandimomotera went gold and Tuku's first album followed, which was also a major success. Mtukudzi is also a contributor to Mahube, Southern Africa's "supergroup".
With his husky voice, Mtukudzi has become the most recognised voice to emerge from Zimbabwe and onto the international scene and he has earned a devoted following across Africa and beyond. A member of Zimbabwe's KoreKore group, with Nzou Samanyanga as his totem, he sings in the nation's dominant Shona language along with Ndebele and English. He also incorporates elements of different musical traditions, giving his music a distinctive style, known to fans as Tuku Music. Mtukudzi has had a number of tours around the world. He has been on several tours in the UK, US and Canada to perform for large audiences. In 2017 Mtukudzi entertained guests at the wedding of Zimbabwean businessman Wicknell Chivayo.
Mtukudzi is the father of five children and has two grandchildren. Two of his children are also musicians. His son Sam Mtukudzi, a successful musician in his own right, died in a car accident in March 2010 and in 2013, he released an album titled "Sarawoga", in tribute to his son.
Source Wikipedia