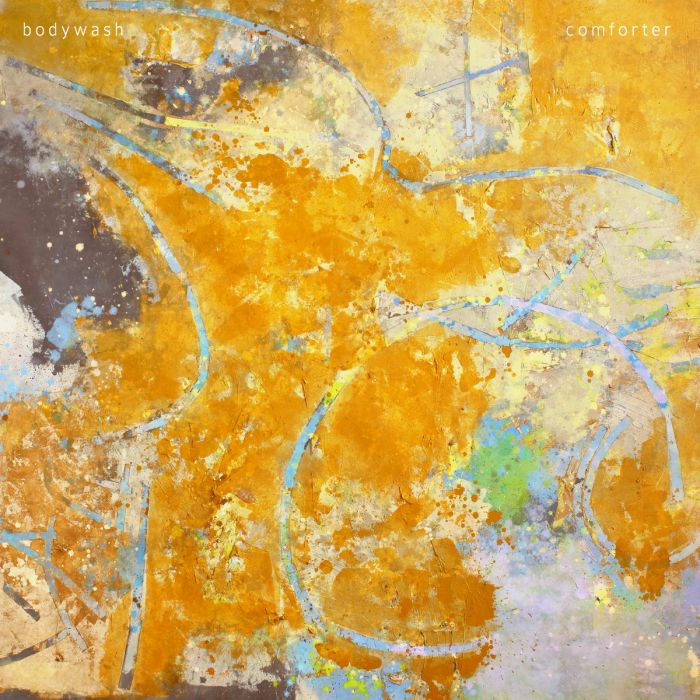 Electronic
Updated Dec 2019
On the song "Sunspots", Bodywash vocalists Chris Steward and Rosie Long Decter sing, "When everything is so serene, it's hard to see/We miss the cracks that open up beneath our feet." It's the perfect…
On the song "Sunspots", Bodywash vocalists Chris Steward and Rosie Long Decter sing, "When everything is so serene, it's hard to see/We miss the cracks that open up beneath our feet." It's the perfect distillation of the Montreal band's new full-length record, Comforter, both in mood and sound. Long Decter and Steward's harmonies rise over an icy sheet of programmed drums and a fog of synth and guitar, deceptively peaceful on the surface, hiding the roiling chaos underneath.
Bodywash was formed in 2014 when Chris Steward and Rosie Long Decter began jamming in a basement rehearsal room at McGill University. Bonding over a shared affection for shoegaze and dream pop, the two found an immediate chemistry. "There is an excitement that comes from having people of diverse backgrounds and personalities in one room," says Steward, "trying to make something beautiful together." Tom Gould joined soon after on bass, and they recorded an EP in 2016.
When it came time to make a full-length album, Bodywash enlisted Nigel Ward to record the LP. However, the road to Comforter wasn't easy. The recording process spanned two years and five recording studios, with the band constantly rewriting, reworking, and rearranging songs, until every note and tone felt exactly right. Drummer Ryan White joined the band mid-way through the recording process. "The album evolved as we were evolving as a band," says Long Decter. "You can hear us grow and change with each song." The final product was mixed by Taylor Smith and Austin Tufts of the band Braids, and was mastered by Evan Tighe.
"The joy of experimentation is everything," says Steward. "The whole thing is alchemic, trying to combine a bunch of ingredients together to make gold, or whatever gold is." Long Decter agrees. "We're perfectionists," she says, "but it comes from a place of feeling."
The result is the perfect insomniac's record, a late-night album of emotional extremes, from the enveloping warmth of shoegaze to the stark electronics of 90s trip-hop and IDM. Guitars blur in and out, melodies vanish and appear, synths blinking like lights in a fog. It's an album of obsessive detail buried in a blur of reverb. It draws you in and pushes you away in equal measure.
Album standout "Twins" began as a thirty-second guitar loop, with Steward adding layer after layer of synths. It careens from despair to an exhilaration, a manic scream of a song that reaches a full catharsis. "We deal a lot in sonic moments of anxiety," says Long Decter, "but the goal is to live in that space between extremes, between worry and comfort." The band's restless experimentation can best be seen on the shimmering "With Heat." Initially a guitar-driven indie rock tune Steward wrote for a contest, the song took on new life when Long Decter broke the song into spare parts on a computer, slowing it down, changing the key, adding layer after layer until something entirely new emerged, and the song took its final form.
The album closes with the epic "Another Plane." Built on a combination of krautrock-style rhythms and breakbeats with a haze of guitars and synths hovering above, it glimmers with possibility. The song is a harrowing account of the frantic moments when reality begins to blur, a gaze over the emotional edge of things. With its increasing emphasis on electronics, "Another Plane" is also a look into what sonic possibilities might lie ahead for the band.
Comforter is a document to a band's own becoming, the exhilaration that comes from constant exploration, the drive for perfection and the joy of learning how to let things just be. It's a mix of contradictions, the smothering warmth and the frigid cold, the chaotic and the peaceful. It's a testament to the way that from many familiar ingredients something new can be formed, the joy and wonder of what's possible when four people are in a room together, trying to make something beautiful.
– Jimmy Cajoleas
Source luminellerecs.com