Reggae
Updated Jun 2020
Ernest Ranglin OD (born 19 June 1932) is a Jamaican guitarist and composer who established his career while working as a session guitarist and music director for various Jamaican record labels including…
Ernest Ranglin OD (born 19 June 1932) is a Jamaican guitarist and composer who established his career while working as a session guitarist and music director for various Jamaican record labels including Studio One and Island Records. Ranglin played guitar on many early ska recordings and helped create the rhythmic guitar style that defined the form. Ranglin has worked with Theophilus Beckford, Jimmy Cliff, Monty Alexander, Prince Buster, the Skatalites, Bob Marley and the Eric Deans Orchestra. He is noted for a chordal and rhythmic approach that blends jazz, mento and reggae with percussive guitar solos incorporating rhythm 'n' blues and jazz inflections.
Ernest Ranglin was born in Manchester, West Central Jamaica. His family moved to Kingston, where he attended the Providence Primary School, Kingston Senior School and Bodin College. Ranglin's introduction to music was through two uncles who both played guitar. Initially a self-taught guitarist; he received some tutoring on how to sight-read from a violin player named Tommy Tomlins. At the age of 15, Ranglin joined the Val Bennett Orchestra, which was followed by a period of employment with the Eric Deans Orchestra. While performing locally with these orchestras Ranglin was introduced to the jazz pianist Monty Alexander, which led to a lifelong friendship as well as numerous musical collaborations.
During the 1950s Ranglin played guitar on calypso and mento releases, some of which were recorded for the tourist market. The 1958 album The Wrigglers Sing Calypso at the Arawak is representative of the type of calypso floor show that Jamaican bands performed at hotels (some of the tracks from the original album were included on the 2010 CD release Jamaica - Mento 1951-1958). He was employed as a guitarist by the Jamaica Broadcasting Corporation (JBC) between the years 1958 and 1965 with public radio broadcasting (radio services had been established earlier with the first broadcast transmitted in November 1939) commencing in 1959 and television broadcasting commencing in 1963. Ranglin also played with Cluett Johnson's studio band Clue J and the Blues Blasters; recording several tracks for Coxsone Dodd at Federal Studios, including the Theophilus Beckford hit "Easy Snapping" (recorded in 1956 and released in 1959), which he arranged and played guitar on. Ranglin also played on the Beckford tracks "Jack and Jill Shuffle" and "Shuffling Jug."
Source Wikipedia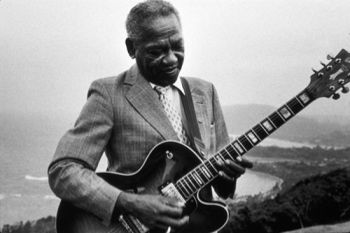 Are you enjoying "Satta Massagana" by Ernest Ranglin?
Listen to additional Ernest Ranglin song picks on Darren's Song Of The Day.
Listen here
---