Rock
Updated Apr 2021
Christopher Becker Whitley (August 31, 1960 – November 20, 2005) was an American blues/rock singer-songwriter and guitarist. During his 25-year career he released more than a dozen albums, had two songs…
Christopher Becker Whitley (August 31, 1960 – November 20, 2005) was an American blues/rock singer-songwriter and guitarist. During his 25-year career he released more than a dozen albums, had two songs in the top 50 of the Billboard mainstream rock charts and received two Independent Music Awards. Whitley's sound was drawn from the traditions of blues, jazz and rock and he recorded songs by artists from many genres. He died in 2005 of lung cancer at the age of 45.
During the early 1980s Whitley was busking on the streets of New York City and collaborating with musicians Marc Miller, Arto Lindsay and Michael Beinhorn. He was given a plane ticket to Ghent, Belgium in 1981, and lived there for six years, recording several albums and playing with the bands Kuruki, 2 Belgen, Nacht Und Nebel, Alan Fawn, and A Noh Rodeo.
Whitley with Alan Gevaert of Deus in the late 1990s in New York City In 1988, producer Daniel Lanois heard Whitley perform at the Mondo Cane club in New York City and he helped Whitley obtain a recording contract with Columbia Records. In 1991 two of Whitley's songs charted on the Billboard Mainstream Rock charts: "Big Sky Country" (#36) and "Living with the Law" (#28).
Source Wikipedia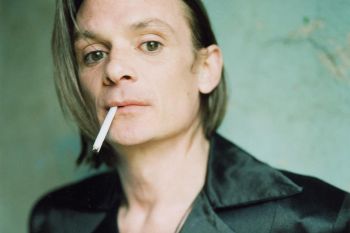 Are you enjoying "Wild Ox Moan" by Chris Whitley?
Listen to additional Chris Whitley song picks on Darren's Song Of The Day.
Listen here
---