Reggae
Updated Sep 2021
Afro Omega began receiving messages from the mothership in 2003. For the last decade they have traveled across the globe fighting racism, classism, poverty, and depression with pure fire mixed with…
Afro Omega began receiving messages from the mothership in 2003. For the last decade they have traveled across the globe fighting racism, classism, poverty, and depression with pure fire mixed with pounding riddims, proper fitness and relentless drive. Bronté Omega's conscious lyrics, blazing stage presence and high energy performance has lead the Omega band to higher frequencies. They have been instructed by the mothership to use their instruments to convey the message of love and unity into positive heartfelt musical vibrations. Please join us to fight global and intergalactic injustice with electric music, dance and freedom of expression. We have played with many amazing, legendary artists, too many to list, and we will play with many, many more. If you haven't experienced AFRO OMEGA live, the mothership is waiting. MOVE LIKE LIGHT!
Source reverbnation.com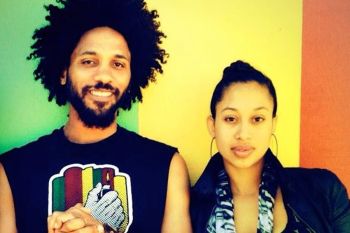 Are you enjoying "Lately" by Afro Omega?
Listen to additional Afro Omega song picks on Darren's Song Of The Day.
Listen here
---
Band Website